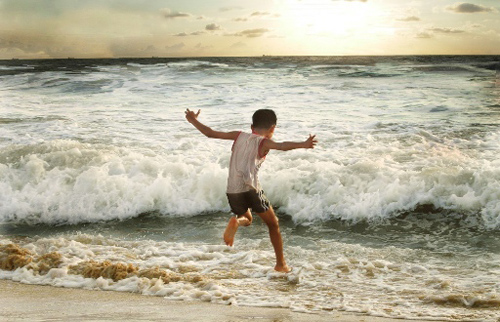 The wonder years of a child are those years in his life when everything new he encounters is a wonder experience for him. A new object, a new face, a new place, a new shape…the child is wholly fascinated by the sight, sound and feel of it. The wonder years starts from the time he is able to perceive the world around him – which he could from infancy – to about the beginning of the teen years. At teenage, the boy or girl enters another phase of life when they begin to discover the wonders of puberty and teenhood, and their wonderment at natural phenomena wanes.
The parent who uses the precious wonder years to guide and enhance their child's fresh experiences of the world lays an excellent foundation for their son or daughter to continue enjoying the wonders of life and nature beyond childhood and into adulthood.
A sense of wonderment along with a sense of keen humor (not to be confused with the ability to be humorous) is among life's very special blessings for those who have them. These two dispositions make one's daily living colorful and cheerful. There is no room for boredom or monotony for the person who never ceases to wonder at God's creation being replayed daily in nature's various phenomena. Every time he beholds a new flower or scents a new fragrance, his sense of astonishment at the marvel of creation swamps his heart and he can't help but burst out in praises to God for yet another amazing facet of his handiworks.
I have already mentioned in my book on parenting (see books section) about the benefits of exposing even the child in the womb to positive external stimuli by mom exposing herself to pleasant experiences during pregnancy.
When the child is born and his eyes and ears slowly learn to focus on objects and sounds, put colorful objects within sight of the baby. Beautiful music, melodious and uplifting, may be played for a little while in the background when the child is awake and in a playful mood. Don't play music continually, or too often in a day, for music heard too long can be torturous even to adult ears.
When the child is old enough to handle objects, place childsafe objects of different shapes and colors within his reach.
Take your baby outdoors at least once daily, if possible. If there's a park nearby, walk under the trees and among the plants and let your offspring's eyes soak in the wonders around him. Point out a new creature – a cat, a bug, a bird. Show leaves and flowers at close quarters, so baby can learn to observe the marvel of design in nature.
As the child grows older, the parent should provide opportunities for his or her sense of wonderment to grow correspondingly in diversity and intensity. The mere color and shape of a leaf gives way to the sheer diversity of the plant kingdom. Simple handling of objects now becomes nimble molding of shapes with clay or sand. Generic music listening advances to specific musical preferences.
When your child is about three or four, take him on your shoulders outside the house on a star-spangled night. And there in the dark, point to the constellations above and show him for the first time in his life the twinkling wonders.
In the years my two sons and my daughter were growing up from childhood to teenhood before my very eyes, I have never got back the opportunity to speak to them the words that I had postponed speaking to them; I never once got back the opportunity to touch and hold their hands when I had thought I would hold them a little later when I was just done with a particular urgent work I was doing then; in all those years of parenting my children, I never once got back the chance to look again at the same facial expressions which longed to have my attention and speak to me.
Oh, yes, I did get the chance to speak and touch, and see many facial expressions at other times. But the ones I missed were unique. I long for them now, but I know I have lost them forever.
If I were a young parent again, every time my little child's head pops up at my desk, while I am deeply engrossed in an important project work, instead of telling him I cannot come with him now to see that butterfly he discovered, I will sleep my computer and rush out with my five-year old child to see that new wonder in his life.
These wonder years in your child, this fascination in his eyes for everything you show him, or do with him, alas, lasts for so short a time that even before you could provide a fraction of the wonder experiences you had initially planned for your child, the years are forever gone, and you have now a self-willed tween staring back at you and wanting to go his or her own way.
The wonder years are so fleeting you need special help from God to fully redeem these years. Therefore, before your child's wandering years begin, and your wondering time starts, may God help you to redeem every single day of the wonder years with your little son or daughter.
Pappa Joseph